Accommodation and Facilities
- a boutique Maleny holiday house

Leela offers self-contained luxury retreat accommodation just outside Maleny for up to 9 adults.

Leela is a unique luxury abode, consisting of two linked dodecahedrons, built on a secluded ridge 10 kilometres outside Maleny. The first twelve sided module incorporates the living areas, with the second housing the four bedrooms. Sweeping verandahs circle both dodecahedrons.
Guests will wake up to the sounds of the whip birds calling, be surrounded by a curtain of green as they look across and down into the forest and be nurtured by nature.
You will holiday in an elegant home, which through its design complements and enhances the landscape. Situated to maximise valley views, tranquility and privacy, the house is provided with luxury linen and excellent furnishings and fittings. It is unique in both design and décor; its delights only enhanced by the eclectic array of adornments from some unexpected corners of the globe.
Fully ducted reverse circle air conditioning, thermostatically controlled heaters and fireplace will keep guests at the perfect temperature while staying at Leela.
Spacious Living Areas
Enjoy stunning and uninterrupted forest and valley views of the Sunshine Coast Hinterland from the verandahs and every room in the house. Warm up in winter by the sunken circular firepit, with its surrounding granite seating. The living room features a wide-screen LED/LCD television with MyStar HD (The Works) catering for all viewing tastes (also including the local HD channels). An accompanying Blu-ray DVD with a range of DVDs is also available. Complimentary (reasonable use) Wi-fi internet is also available to guests.
Luxury Bedrooms
The guest house has four bedrooms, perfect for groups. Two of the four rooms feature king-sized beds, made from sustainably heli-harvested New Zealand hardwood, featuring an integrated Bose stereo with iPod connectivity. The bed bases can be tailored for small, medium or well built guests. The other two rooms feature a luxurious queen-sized bed with posturepedic mattress. These queen rooms can be re-configured to include a luxury king size single bed.
Wake up to see the mists flowing through the valley and ensconcing the house – experience the dragon's breath.
Stunning Bathrooms
There are two full size bathrooms, each with a stunning view and linked to the bedrooms. A spa is available in the master bathroom and full size bath in the second room, with integrated showers in both.
Fully-equipped Kitchen
The stunning granite kitchen comes fully equipped with gas oven, microwave, fridge and dishwasher. Guests will be able to enjoy plunger coffee and a range of herbal and black teas. A Nespresso coffee machine is also on hand for that perfect morning wakeup.
A stainless steel gas BBQ with side burner is also available for guest use.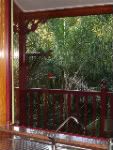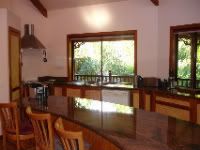 Secluded Gardens and Surrounds
The 72 acre property has 15 acres of lawns, with scattered gardens and offers:
private covered parking for up to four cars
a walk in the park through manicured lawns
a six hole par three "Bush Golf" course (with lots of rough!!)
swimming pool
5 plus kilometres of walking/hiking tracks.